Sunday, April 20
Okay, this may be the ugliest, most inappropriate fiberglass sculpture in front of a theme park restroom anywhere in the world.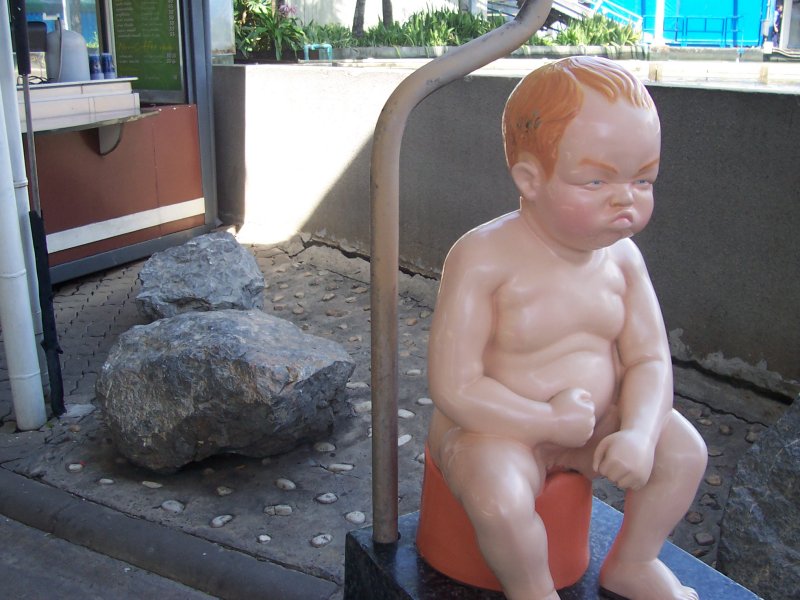 More info
here
.
Yes, these naked babies stood near the location of every restroom! They scared the crap out of me! First, what the hell is it doing? And second, if its doing what I think it is, why is it so unsatisfied?!
Picture from darkrides.co.uk.
Here is an on-ride video of the Charlie and the Chocolate Factory ride at Alton Towers
. Reminds me of what I dislike about
Roger Rabbit's Cartoon Spin
at Disneyland -- garish, obnoxious, doesn't match the imagery of the source material... but from the sound of it, people are having fun on the second half of the ride: a simulator of the Great Glass Elevator.
By the way -- though the
Charlie and the Chocolate Factory
ride at Alton Towers does not use music from the movie
Willy Wonka and the Chocolate Factory
, apparently the
Alice in Wonderland
ride at Blackpool Pleasure Beach
does
. Along with scenes swiped from the Disney movie and Disneyland ride. Go figure.
(Thanks and a tip of the "In This Style 10/6" hat to Trevor for reminding me about this ride.)
Labels: Alice in Wonderland, alton towers, Blackpool., Charlie and the Chocolate Factory, dark ride, simulator, Willy Wonka